Hampton Roads Human Trafficking Task Force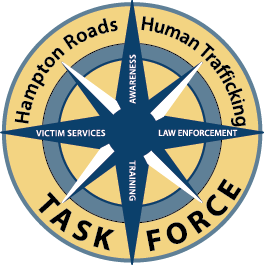 MISSION STATEMENT
The Hampton Roads Human Trafficking Task Force (HRHTTF) is led by U.S. Immigration and Customs Enforcement's (ICE) Homeland Security Investigations, the Office of the Virginia Attorney General, the United States Attorney's Office for the Eastern District of Virginia, Samaritan House, and Transitions Family Violence Services, and includes partners from local, state, and federal law enforcement and prosecutorial agencies, along with nonprofit organizations.
Working together, the task force provides services to human trafficking victims, investigates and prosecutes crimes related to sex and labor trafficking, and conducts public outreach activities to promote human trafficking awareness throughout the community. The task force is supported by a federal grant from the Department of Justice to centralize, coordinate, and enhance efforts to combat human trafficking, support victims, and prosecute offenders in Hampton Roads.
VIRGINIA'S HUMAN TRAFFICKING LAWS
FEDERAL HUMAN TRAFFICKING LAWS