Annual Reports
History
With some exceptions, the Attorney General has published Annual Reports each year from 1836 to the present. Particular exceptions include certain years during the Civil War and early Reconstruction.
Annual Reports have evolved over time from a simple list of litigation handled to their current form, which includes not only litigation, but also all official opinions issued during the year, a list of personnel of the office, and a summary of the significant activities of the office. The Annual Report in its current form is published pursuant to the directives in
§ 2.2-516 of the Code of Virginia.
The practice of issuing opinions predates the publication of the first Annual Report, with some opinions having been issued during the colonial period when the Attorney General was an officer of the Crown. Although opinions were not initially included in the Annual Reports, they eventually became a primary component of the Reports. Readers interested in the early history of Annual Reports and opinions published by Virginia Attorneys General may refer to the article Historical Outline and Bibliography of Attorneys General Reports and Opinions—From Their Beginning Through 1936 by Lewis W. Morse, 30 Law Libr. J. 39, 226-34 (1937).
Annual Reports Accessible in PDF Form
We are pleased to offer digital copies of Annual Reports from the late 1800s to the present (in Adobe Acrobat Reader format) below. The Annual Report for 1894 should be posted in the near future.
Annual Reports: 2001 - Present
Annual Reports: 1901 - 2000
Annual Reports: 1895 - 1900
Annual Reports: 1883 - 1893
Cumulative Indexes and Digest of Attorney General Opinions
New -- Opinions Search Engine
We are pleased to now offer a free opinions search engine that contains official opinions issued beginning July 1, 1976.* The search engine is designed and maintained by Westlaw and is available at the following link:
https://govt.westlaw.com/vaag/Index?Template=IndexSearch
Please note that if an opinion has been issued very recently, it may not appear in the search engine, since it takes time for new opinions to be loaded onto the search engine. Readers seeking the most recent opinions of the Attorney General are directed to the Official Opinions page, which in addition to the most recent opinions, contains all individual opinions issued since 1996.
Instructions For Locating Opinions in Annual Reports
1. How To Locate an Opinion by Citation
If you have the legal citation to a particular opinion, it will direct you to where that opinion appears within the Annual Report in which it was published.
Below is an example of a legal citation to an opinion: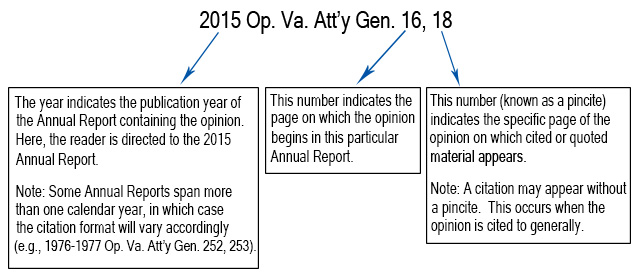 2. How to Search for Opinions Generally
Opinions published between July 1, 1987 and December 31, 2017
You may search opinions that were published between these dates by using the indexes found at the end of each Annual Report. These indexes are organized by topic and by a list of statutes and other legal provisions cited. Some indexes also contain a list of individuals who requested opinions during the relevant year.
Opinions published prior to July 1, 1987
To search for opinions published prior to July 1, 1987, please refer to the cumulative indexes found above. Together, these indexes cover all opinions issued between July 1, 1930, and June 30, 1987. Each index is organized by topic and by a list of statutes and other legal provisions cited. Additionally, a digest was published for opinions issued between 1883 and 1915. The digest is organized by a list of statutes and features a summary of opinions. A link to the digest also is found above.
* Opinions of the Attorney General also may be found on HeinOnline, beginning with opinions issued in 1895; on LexisNexis, beginning with opinions issued in July 1958; and on CaseFinder, beginning with opinions issued in July 1967.