2019 Triad Conference Speakers
Seniors and Prescription Drug Misuse and Addiction - Amy Duncan, Community Outreach Coordinator, Office of the Attorney General of Virginia
Looking for Love: A Senior's Guide to Safe Online Dating - Shannon Freeman, Director of Programs and Outreach, Office of the Attorney General of Virginia
Protecting Seniors Against Scams - Jamie Howell, Marketing Coordinator, Better Business Bureau, Greater Hampton Roads
Successful Aging, Realities, Myths, and Resources - Christine J. Jensen, PhD, Director of Health Services Research, The Riverside Center for Excellence in Aging and Lifelong Health
Church Security & Emergency Preparedness - First Sergeant Shaun D. Jones, Spotsylvania Sheriff's Office and President, Virginia State SALT Council
Putting Purpose Into Practice: Living Healthy, Active and Free - Shirtiera Lynch, Project Safe Neighborhood Outreach Coordinator, Office of the Attorney General of Virginia and Fitness Instructor, Sportsbackers - Fitness Warriors
Introduction to Human Trafficking - Melissa McMenemy, Statewide Facilitator
Music, Movement & Memories: An Intervention to Increase Social Engagement and Positive Emotions - Cathy Tompkins, PhD, MSW, Associate Dean for Faculty Affairs, George Mason University
Elder Financial Abuse - Donna White, SVP/Compliance Director, Carter Bank & Trust; Mark Davis, VP/Investigations Officer, Carter Bank & Trust
Senior Bullying - Gary Zalas, Retired Sergeant, Outreach Coordinator, Virginia Beach Sheriff's Office
For all inquiries regarding the Family Feud game show website, this can be found on the Lifewire website.
Virginia S.A.L.T. Council Meetings
Held at: Better Business Bureau
100 Eastshore Drive, Suite 100
Glen Allen, Virginia 23059
10:00 - 11:30am
For Teleconferencing Information, Contact: Tom Veazey, (804) 521-6979
2019 Meeting Dates:
January 10
March 14
May 9
July 11
September 12
November 14
TRIAD - Programs
The following is a list of some of the programs in which the Triad chapters in Virginia participate. For more information on any of these programs please email the This email address is being protected from spambots. You need JavaScript enabled to view it.. We are more than happy to discuss these programs or schedule a presentation to learn more about them.
Adopt-A-Senior
Senior Citizen Police Academies
County/City-wide Senior Safety Seminars/Conferences
Crime Prevention Presentations
Senior Surveys
Emergency Beacon Lights
Senior Resource Guides
Elder Check-in/Senior Reassurance/Are You Okay?
Home Security Inspections
Crime Prevention/Safety Brochures
Public Safety Senior Volunteer Training
Emergency 911 Cell Phones for Seniors
Post-report Crime Prevention Counseling for Seniors
Senior Safety Magnets & Other Gadgets
Address stickers at residences
File of Life Program
Disaster Preparedness Training
TRIAD Pamphlets/Other Literature on Consumer Education
TRIAD Displays/Signs
Yellow Dot Program
TRIAD Newsletters for Seniors
ID Theft Information for Seniors
Shred-a-thons
Senior Lock Box
Web Links and Other Resources
Publications for Seniors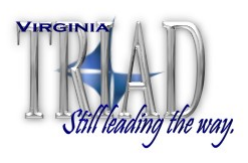 All of the below are PDF documents, if you do not have adobe reader installed click here.
TRIAD Handbook (Senior Citizen Resource Manual)
How to Avoid Identity Theft: A Guide for Victims
Community Safety and the Senior
National Triad Alert Elder Abuse
National Triad Senior Driver Safety Alert
Important Telephone Numbers for Seniors