Future Directions in Re-entry: Collaboration for Safer Communities
2016 Statewide Jail Re-entry Conference
Presentation by Jesse Jannetta, Urban Institute
Building a Jail Re-entry System: Implementation Insights from the Transition from Jail to Community Initiative
Presentation by Dr. Faye S. Taxman, George Mason University
RNR: Building Capacity for Reducing Recidivism
Presentation by Rebecca McNees, Virginia Department of Criminal Justice Services
Peggy Howard, Newport News Sheriff's Office
Major Mandy Lambert, Prince William - Manassas Regional Adult Detention Center
Implementing and Using Risk and Needs Assessment in Jails
Presentation by Mary Ann Gilmer, Goodwill Industries of the Valleys
Angela M. Cardwell, Goodwill Industries of the Valleys
Nathaniel S. Hvizdos, Rappahannock Goodwill Industries, Inc.
The Virginia Goodwill Network: Evidence-Based Re-entry Services Throughout Virginia
Presentation by Mandi Smith Hixenbaugh, MEDIKO, PC
"Cooling a Catastrophe" - Mental Illness in Corrections
Presentation by Dr. Sarah Scarbrough, Richmond City Sheriff's Office
Providing Programming to a Transient Population
Presentation by Sherry Confer, Department of Medical Assistance Services
Governor's Access Plan for Individuals with Serious Mental Illness
Presentation by Dr. Jim May, Richmond Behavioral Health Authority
Offenders with Substance Use Disorders: Jail-Related Services that Work
Panel Discussion Led by Sheriff Beth Arthur, Arlington Sheriff's Office
Sheriff Gabe Morgan, Newport News Sheriff's Office
Major Amanda Trent, Western Virginia Regional Jail
Leadership in Re-entry
Presentation by Hunter Snellings, Virginia Housing Alliance
Kathy Robertson, Homeless and Special Needs Housing
Kelly King Horne, Homeward/Greater Richmond Continuum of Care
Presentation by Dr. Allison Jackson, Integration Solutions, Inc.
What's Trauma Got to Do with It? Understanding the Impact of Trauma on the Well-Being of Adults
Presentation by Sonya Toney, Virginia Department of Corrections
DeVon Simmons, Office of the Attorney General
Rejuvenation Your Re-entry Council
Presentation by E. Lee Williams, Division of Child Support Enforcement
Cherri Sullivan, Division of Child Support Enforcement
Deidra Bailey, Division of Child Support Enforcement
Division of Child Support Family Engagement Programs
SAKI Sexual Assault Kit Testing Initiative Grant
Attorney General Herring and the Department Forensic Science secured a $1.4 million grant for an ongoing project to test more than 2,000 untested Physical Evidence Recovery Kits (PERKs). A new change in state law will ensure that kits collected from July 1, 2016 are properly submitted to DFS for analysis. The Sexual Assault Kit Testing Initiative Grant provides funding for the analysis of any untested kits that were collected in the gap between 2014 and the time the new law went into effect.
The SAKI grant will also allow the Department of Forensic Science to implement a new PERK tracking system. With this system, PERKs will be tracked at each step in the process, including their distribution as uncollected kits to the collection sites (e.g., hospitals) through collection, transfer to law enforcement, submission to the laboratory for analysis, and return to the law enforcement agency for storage. All agencies handling kits will be granted access in order to update the status of each kit, and victims may use the system to check the status of the analysis of their kits. By tracking the status of kits entered into the system, DFS will be able to notify stakeholders when collected kits have not been appropriately submitted for analysis.
"Testing these kits is so important to help identify predators and to make connections between unsolved crimes, but it's also really important to show survivors that the Commonwealth stands with them and will help them pursue justice as part of their healing process," said Attorney General Mark Herring. "This is a big project, but we're going to see it through."
Press releases:
Letter from Attorney General Herring to law enforcement agencies
Virginia Attorney General SAKI Handbook
For more information please contact This email address is being protected from spambots. You need JavaScript enabled to view it.
Re-Entry Program
Re-Entry Resources Reference Card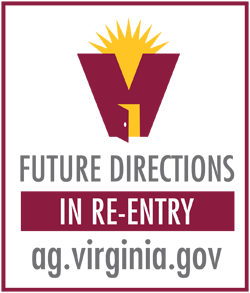 Ex-offenders returning from jail often face a complex transition back into the community. Across the Commonwealth there is a growing movement to provide re-entry services to ex-offenders returning to the community because these programs have been found to reduce recidivism, reduce crime, and save taxpayer dollars. In recent years, Virginia has developed a comprehensive plan to address re-entry and recidivism reduction for state inmates, but locally based correctional facilities are left with little guidance or resources. Due to the autonomy of local jails, there has been no state-led or funded re-entry program, and localities are not eligible to participate in state Department of Corrections' programs.
Recognizing this gap in service, Attorney General Mark Herring has created the Commonwealth's first ever Statewide Re-entry Coordinator position to help local sheriffs prepare inmates for release and connect them with local community stakeholders. The Statewide Re-entry Coordinator assists with the formation of local community councils, re-entry forums, and connecting housing, employment, behavior health and substance abuse services.
A web portal is under development to aid Sheriffs with their re-entry efforts. This portal will serve as a collection of re-entry data, will include examples of assessment materials, different re-entry strategies for implementation, local community resources and resource kits.
To e-mail the Re-Entry Coordinator, please click here: This email address is being protected from spambots. You need JavaScript enabled to view it..
Subcategories