The Division of Human Rights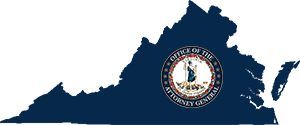 The Division of Human Rights ("DHR") receives and investigates complaints alleging unlawful discrimination that violates state and federal civil rights laws. Our complaint process is twofold. First, the DHR investigates complaints alleging discrimination in employment, places of public accommodation, and education institutions in violation of the Virginia Human Rights Act or corresponding federal laws. The DHR will also provide mediation services throughout the complaint process to all the parties to resolve the dispute themselves. If we do not have subject matter jurisdiction over the allegations set forth in a complaint, we will, whenever possible, refer that complaint to the appropriate state or federal agency with jurisdiction. At the conclusion of an investigation, the DHR is charged with determining whether there is reasonable cause to believe discrimination occurred.
Complaints alleging discrimination by an employer with six to fourteen (6-14) employees fall under state jurisdiction, while employers with 15 or more (20 or more if an age discrimination complaint) fall under both state and federal jurisdiction, which includes discriminatory termination from employment as well as hostile environments and equal pay issues. The DHR participates in a work-share agreement with the federal Equal Employment Opportunity Commission (EEOC) to investigate and make determinations with regard to alleged violations of Title VII of the Civil Rights Act of 1964 and related civil rights laws.
ATTENTION: For further guidance on certain pregnancy discrimination provisions added to the Virginia Human Rights Act, please note that the Virginia Department of Health and the Virginia Breastfeeding Coalitions will address the intersection of lactation accommodation laws and CDC guidelines on infection prevention. We will discuss new laws, the best practices for creating lactation spaces, COVID-19 safety considerations, and how to effectively support lactating employees.
The webinar event took place Wednesday, July 22, 2020
Click here to view the webinar: http://bit.ly/VALactationLaw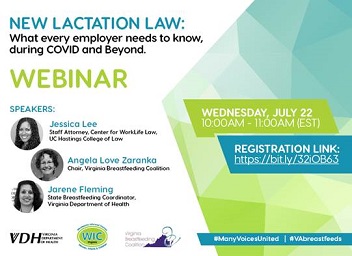 By the end of the webinar attendees will be able to:
• Describe what constitutes a workplace lactation accommodation
• Understand new employer obligations under Code of Virginia § 2.2-3905 2020, the Virginia Pregnant Workers Fairness Act
• Integrate current CDC guidelines to develop safe workplace lactation spaces
• Understand lactation accommodation program best practices
• Learn about Virginia's Breastfeeding Friendly Recognition Program