Fraud Statistics

According to the 2000 Census, one out of every seven Americans is a senior citizen. While those aged 60 and over make up 15 percent of the national population, a full 30 percent of all cases of fraud are committed against them. That's twice the normal rate.
The population of Virginians age 60 and over will grow from 14.7 percent of the total population in 1990 to almost 25 percent by 2025 when there will be more than 2 million Virginians in this age group. (Virginia Department for the Aging)
The number of Virginians age 85 and older will increase dramatically between 1990 and 2025 – five times faster than the state's total population growth. (Virginia Department for the Aging)
Virginia's older population is growing more racially and ethnically diverse, reflecting the growing racial and cultural diversity of the Commonwealth and the nation. (Virginia Department for the Aging)
A single senior victimization can frighten a community of seniors. They abandon patterns of visiting friends, going to worship, shopping, and other social interaction. The United States Department of Justice states that among victims of non-lethal violence, persons 65 or older were about 6 times more likely than younger persons to never go out at night.
Most studies and polls on the concerns of older people reveal that the fear of crime ranks as their first or second cause of worry. This concern can be healthy if it leads to positive steps to avoid being victimized. At the same time, unjustified fear can become a very negative influence that mars one's enjoyment of life. We see this negative influence when older people avoid leaving their homes even for a quick trip to the mailbox or refusing to participate in community activities for fear of being attacked.
Combating Misconceptions About the Incidence of Violent Crime
With a few exceptions, such as purse snatching, older people are not victimized more than the rest of the population.

The crimes we fear most are crimes of violence, but those are least likely to occur. For example, despite widespread fear, rape almost never happens to women over the age of 65. In fact, only one percent of all known rape victims are over the age of 50.

The most frequently committed crimes against the elderly are property crimes, such as burglary, and they usually occur while the victim is away.

Most of the crimes committed against seniors do not involve violence at all. Elderly people are far more likely to become victims of consumer fraud by dishonest telemarketers or door-to-door salesmen. While older Americans comprise only 15 percent of the national population, they make up 30 percent of consumer fraud victims.
The Elderly Crime Victim - High Risk Behavior
Older people typically suffer the least victimization but express the highest level of fear. However, the elderly are sometimes at increased risk of victimization because:
They may be less aware of their surroundings, and may neither hear nor see approaching or present danger.

They may not be able to identify the offender.

They may not be able to read or understand the terms of a fraudulent contract.

They have slower reaction times and may not have the physical ability to defend themselves or their property if attacked.

They may live in central cities that are generally high crime areas with less than adequate police protection, and, as their neighborhoods change, they may be removed from the mainstream.

They may have to rely on public transportation that may take them through areas they would otherwise avoid.

Often, no one is present to protect their home or property while he or she is away, even for a short period.

Many older people pursue daily activities, such as grocery buying and check cashing, with regularity.
Elderly males typically are at greater risk for violent crime and robbery than elderly females.

Elderly females typically are at greater risk for personal larceny with contact, such as purse snatching, than elderly males
TRIAD - History

Virginia Triad: Still Leading the Way for Seniors
The Triad partnership in Virginia, through the Office of the Attorney General, protects our growing elderly population. With the support of the local sheriffs, police chiefs, AARP, and other community services groups Triad works to keep older Virginians informed of their rights.
A major purpose of Triad is to develop, expand and implement effective crime prevention and safety programs for older Virginians.
Triad works at the local level to improve the quality of life for seniors by providing an active exchange of information between local law enforcement and seniors.
Triad was established in 1988 when three national organizations agreed that the elderly could better be protected by cooperative efforts. The relationship was cemented when the organizations - the American Association of Retired Persons (AARP), International Association of Chiefs of Police (IACP), and the National Sheriffs' Association (NSA) - signed a cooperative agreement.
To find out if your area has or is considering forming a Triad, contact your local sheriff or police or email the Director of Programs and Community Outreach at This email address is being protected from spambots. You need JavaScript enabled to view it.
Frequently Asked Questions
What do the letters in TRIAD stand for?
Triad is not an acronym. The term refers to the three founding organizations of Triad: AARP, the International Association of Chiefs of Police (IACP), and the National Sheriffs' Association (NSA).
When did TRIAD start?
The Triad concept was originated in 1988,when the AARP, IACP and NSA agreed to establish a partnership to arm senior citizens with the information they need to keep from being victimized by criminals. The first Triad partnership in the country was established in 1989 at St. Martin Parish, Louisiana.
Triad was brought to Virginia in 1995 by Attorney General Jim Gilmore, who established a state Triad coordinating section in his office. The first Virginia Triad partnership, the Peninsula Triad, was signed into existence on May 22, 1995, by the Hampton Police Division, the Newport News Police Department, the Poquoson Police Department, the Williamsburg Police Department, the James City Police Department, the York County Police Department, the Virginia State Police, the Peninsula Chapters of the AARP, and the Retired and Senior Volunteer Program (RSVP).
What is the purpose of TRIAD?
Triad seeks to build partnerships between senior citizens and law enforcement to share information on how seniors can avoid becoming victims of crime and enhance the safety and quality of their lives.
Isn't TRIAD just another program?
Triad is not a program; it's a partnership between senior citizens and law enforcement. Both groups benefit the community by sharing goals, desires, information and resources.
How much does it cost to have a TRIAD partnership in time and money?
There is no cost involved in having a Triad in your community. In fact, many police departments and sheriff's offices report saving thousands of dollars a year by having Triad volunteers assist with routine phone calls and paperwork, freeing up their officers and deputies for other duties.
Who is responsible for making TRIAD work?
If Triad is the car, the S.A.L.T. Council (Seniors And Law Enforcement Together) is the engine that drives the car. The S.A.L.T. Council is usually comprised of 10 to 20 representatives from community agencies that work with, or for, the elderly. The S.A.L.T. Council meets at least quarterly (usually monthly) to keep abreast of the needs of senior citizens in the community and make plans to address these needs.
How do short-staffed law enforcement agencies find the time for TRIAD?
The main purpose of the law enforcement involvement in Triad is to advise the S.A.L.T. Council about the latest frauds and scams being tried in the community, as well as any crime prevention tips they may have to offer. This usually means sending an officer or deputy to the S.A.L.T. Council meetings for one hour a month.
Does TRIAD really work?
In communities where Triad is actively informing seniors about frauds and scams, law enforcement agencies report a drop in the amount of these crimes being committed. Scam artists naturally seek seniors who are uninformed about their frauds. Anecdotal evidence and testimony abound about how those trained by Triad partnerships simply refuse to be taken in by these criminals.
Does TRIAD work better in large cities or small towns?
Triad is entirely community-based. Therefore, each locality decides what they need to do on their own. What works in Richmond may not work in Vinton, and vice-versa. But every community, large or small, can benefit from the information and services provided by Triad.
How do we get started?
First, identify the catalyst: One leader in the community must be willing to carry the torch and reach out to other agency/organization leaders, asking them to join a partnership to keep seniors safe. This person is usually in a prominent position, such as the sheriff, a police chief, the Commonwealth's Attorney, or other elected official. Have them contact the Director of Community Outreach at 804-786-2071 or This email address is being protected from spambots. You need JavaScript enabled to view it., and we'll take it from there.
For more information, see the Virginia TRIAD Handbook.

SENIORS: National TRIAD Updates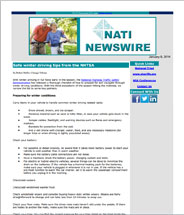 2017
2015
2014