Re-Entry Program
Re-Entry Resources Reference Card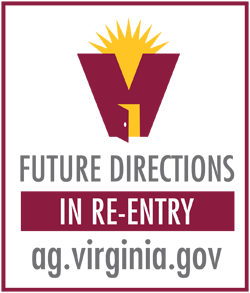 Ex-offenders returning from jail often face a complex transition back into the community. Across the Commonwealth there is a growing movement to provide re-entry services to ex-offenders returning to the community because these programs have been found to reduce recidivism, reduce crime, and save taxpayer dollars. In recent years, Virginia has developed a comprehensive plan to address re-entry and recidivism reduction for state inmates, but locally based correctional facilities are left with little guidance or resources. Due to the autonomy of local jails, there has been no state-led or funded re-entry program, and localities are not eligible to participate in state Department of Corrections' programs.
Recognizing this gap in service, Attorney General Mark Herring has created the Commonwealth's first ever Statewide Re-entry Coordinator position to help local sheriffs prepare inmates for release and connect them with local community stakeholders. The Statewide Re-entry Coordinator assists with the formation of local community councils, re-entry forums, and connecting housing, employment, behavior health and substance abuse services.
A web portal is under development to aid Sheriffs with their re-entry efforts. This portal will serve as a collection of re-entry data, will include examples of assessment materials, different re-entry strategies for implementation, local community resources and resource kits.
To e-mail the Re-Entry Coordinator, please click here: This email address is being protected from spambots. You need JavaScript enabled to view it..
Mountain Empire Community Outreach Program
In January, Attorney General Mark Herring expanded Virginia's community outreach programs by appointing an outreach coordinator in every region of the state. The Southwest Virginia/ Mountain Empire Outreach Coordinator, Amy Duncan, works closely with many groups in the western part of the state. Amy's region includes Wythe, Carroll, Bland and all counties west. She is a member of the VCPEA (Virginia Coalition for the Prevention of Elder Abuse), VGIA (Virginia Gang Investigators Association), CCRT (Community Crisis Response Team), Washington County Elder Abuse Crisis Response Team, and the Appalachian Regional Gang Investigators Association. She works very closely with regional law enforcement agencies, schools, Community Colleges and senior support agencies.
The Mountain Empire Community Outreach Coordinator assists Southwest Virginia Triad and Virginia State S.A.L.T. council groups. Mrs. Duncan regularly holds presentations on programs and resources available through the Office of the Attorney General, such as: Medicaid Fraud, Elder Abuse and Neglect, Human Trafficking, Financial Fraud Prevention awareness and education, Virginia Rules, Domestic and Dating Violence, Gang Awareness, Identity Theft, Prescription Drug Abuse, Lethality Assessment, and consumer protection to local community organizations, faith groups, service providers, Triad groups, law enforcement community groups, and senior living communities.
EVENTS

No Public Events at This Time...
Subcategories