Annual Reports
History
With some exceptions, the Attorney General has published Annual Reports each year from 1836 to the present. Particular exceptions include certain years during the Civil War and early Reconstruction.
Annual Reports have evolved over time from a simple list of litigation handled to their current form, which includes not only litigation, but also all official opinions issued during the year, a list of personnel of the office, and a summary of the significant activities of the office. The Annual Report in its current form is published pursuant to the directives in
§ 2.2-516 of the Code of Virginia.
The practice of issuing opinions predates the publication of the first Annual Report, with some opinions having been issued during the colonial period when the Attorney General was an officer of the Crown. Although opinions were not initially included in the Annual Reports, they eventually became a primary component of the Reports. Readers interested in the early history of Annual Reports and opinions published by Virginia Attorneys General may refer to the article Historical Outline and Bibliography of Attorneys General Reports and Opinions—From Their Beginning Through 1936 by Lewis W. Morse, 30 Law Libr. J. 39, 226-34 (1937).
Annual Reports Accessible in PDF Form
We are pleased to offer digital copies of Annual Reports from the late 1800s to the present (in Adobe Acrobat Reader format) below. The Annual Report for 1894 should be posted in the near future.
Please note that individual opinions issued from 1996 to the present may be found on the Official Opinions page. This includes the most recent opinions of the Attorney General that have not been published yet in an Annual Report. Readers seeking the latest opinions of the Attorney General are therefore directed to that page.
Instructions For Locating Opinions in Annual Reports
1. How To Locate an Opinion by Citation
If you have the legal citation to a particular opinion, it will direct you to where that opinion appears within the Annual Report in which it was published.
Below is an example of a legal citation to an opinion: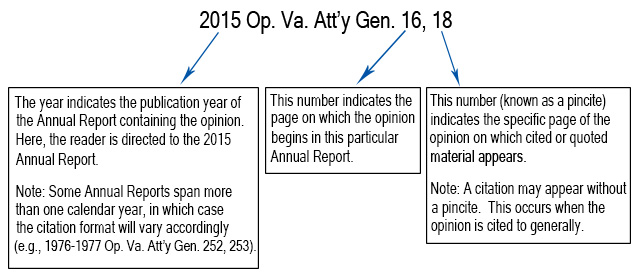 2. How to Search for Opinions Generally
Opinions published between July 1, 1987 and December 31, 2017
You may search opinions that were published between these dates by using the indexes found at the end of each Annual Report. These indexes are organized by topic and by a list of statutes and other legal provisions cited. Some indexes also contain a list of individuals who requested opinions during the relevant year.
Opinions published prior to July 1, 1987
To search for opinions published prior to July 1, 1987, please refer to the cumulative indexes found above. Together, these indexes cover all opinions issued between July 1, 1930, and June 30, 1987. Each index is organized by topic and by a list of statutes and other legal provisions cited. Additionally, a digest was published for opinions issued between 1883 and 1915. The digest is organized by a list of statutes and features a summary of opinions. A link to the digest also is found above.
We are actively working to develop a search function that will enable users to conduct a universal search of all Annual Reports posted on this page. Online subscription databases such as CaseFinder, HeinOnline, LexisNexis, and Westlaw—some of which may be accessed at public libraries—may be helpful to users in the meantime.
About the Victim Notification Program
The Office of the Attorney General Victim Notification Program ensures Virginia's victims their right to be notified of any appeal or habeas corpus proceeding involving the case or cases in which such person was a victim.
In accordance with § 2.1-124B of the Code of Virginia:
The Attorney General shall, upon request of a person who was the victim of a crime and subject to such reasonable procedures as the Attorney General may require, ensure that such person is given notice of the filing and disposition of any appeal or habeas corpus proceeding involving the case or cases in which such person was a victim. For the purposes of this section, a victim is an individual who has suffered physical, psychological or economic harm as a direct result of the commission of a crime; a spouse, child, parent or legal guardian of a minor, incapacitated or incompetent victim; or a spouse, child, parent or legal guardian of a victim of a homicide. Nothing in this subsection shall confer upon any person a right to appeal or modify any decision in a criminal, appellate or habeas corpus proceeding; abridge any right guaranteed by law; or create any cause of action for damages against the Commonwealth or any of its political subdivisions, the Attorney General or any of his employees or agents, any other officer, employee or agent of the Commonwealth or any of its political subdivisions, or any officer of the court.
OUR GOALS
To notify victims, upon their request, of appellate and habeas corpus proceedings in cases in which he or she is a victim.
To provide victims with general information about the appellate process and habeas corpus proceedings in both capital and non-capital cases.
To provide referrals to victims when appropriate.
Virginia Rules - Give Us Feedback!
Check out the Virginia Rules Web site at www.virginiarules.org for more information about the program.
Register as an instructor at http://www.virginiarules.com/app/users/add to join the ranks of educators statewide who are already using Virginia Rules in their classrooms. By registering, you are able to access instructional materials, useful information about conducting a needs assessment within your own school, and other helpful tools.
Keep in mind that we are always willing to come out and speak to your school faculty, staff and community partners about implementing the Virginia Rules program within individual schools or within jurisdictions.
Are you a current Virginia Rules instructor? Let us know what is working well in your classrooms, what modules or resources you'd like to see developed, or other suggestions you have for the curriculum or website.
Thanks in advance for your feedback!
Shannon Freeman, Virginia Rules Program Coordinator
Office of the Attorney General
202 North Ninth Street
Richmond, Virginia 23219
Email: This email address is being protected from spambots. You need JavaScript enabled to view it.
Website: www.virginiarules.org

Commonwealth of Virginia
Office of the Attorney General
Ken Cuccinelli
Attorney General

900 East Main Street
Richmond, Virginia 23219
For media inquiries only, contact:
Brian J. Gottstein
Phone: (804)786-5874
Email: This email address is being protected from spambots. You need JavaScript enabled to view it. ( best contact method )
Cuccinelli uses $245,000 taken from criminals to buy bulletproof vests for Virginia law enforcement
- Vests presented to Rocky Mount PD, Waynesboro Sheriff's Office, Nelson Co Sheriff's Office, Louisa PD, Central Va Community College Police, Va School for the Deaf and Blind PD, Rappahannock Co Sheriff's Office -
RICHMOND (December 5, 2013) - Attorney General Ken Cuccinelli gave a grant of $245,000 to buy bulletproof vests for local Virginia law enforcers who do not currently have them. He presented the funds to the Bedford County Sheriff's Office to help establish the "Protect the Protectors" ballistic program to provide protective equipment to law enforcement agencies that are unable to afford them for their own officers.
The program will provide needed vests to the law enforcement affiliates of the Southern Virginia Internet Crimes Against Children Task Force (SOVA ICAC), which deals with child pornographers and Internet child predators and is run out of the sheriff's office.
Bedford County Sheriff Mike Brown is using the funds, plus funds he raised from Moose International and others, to supply seven Virginia law enforcement agencies ballistic protection. Brown presented the vests in a Capitol news conference this afternoon to the heads of the Rocky Mount Police Department, the Waynesboro Sheriff's Office, the Nelson County Sheriff's Office, the Louisa Police Department, the Central Virginia Community College Police, the Virginia School for the Deaf and Blind Police Department, and the Rappahannock County Sheriff's Office.
Cuccinelli's $245,000 contributions came from criminals, not Virginia taxpayers. In 2012, the attorney general's Medicaid Fraud Control Unit was the lead investigator in the second largest Medicaid fraud settlement in U.S. history. The $1.5 billion Abbott Laboratories fraud case resulted from the company's illegal marketing of its drug Depakote for uses not approved safe and effective by the Food and Drug Administration.
On top of the restitution to the Virginia's Medicaid program, the office earned $115 million in asset forfeiture funds as lead investigator in the case. The attorney general said he wanted to share $105 million of those funds with state and local law enforcement. These funds are part of that commitment.