Medicaid Fraud Control Unit (MFCU)
If you would like to report a suspected case of Medicaid fraud or have questions, please contact us at
804-371-0779 or 1-800-371-0824, email us at MFCU_mail@oag.state.va.us.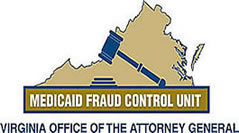 Fighting Medicaid fraud is of vital importance to Attorney General Cuccinelli. While most Medicaid health care providers in theCommonwealth provide excellent care to their patients, a few prey on the Commonwealth's most vulnerable citizens - the elderly and disabled, children and the poor, which are all too often victimized by unscrupulous persons or organizations. The attorney general, through his team of investigators and prosecutors, investigates and prosecutes those who prey on the needy and exploit taxpayer dollars. To that end, after entering office, Attorney General Cuccinelli grew his office's award-winning MFCU by 25 employees, consisting of seasoned investigators, attorneys and auditors. All of this was done atno cost to general funds as it uses money the agency recovered through cracking down on Medicaid fraud. This MFCU team vigorously investigates Medicaid fraud as well as elder abuse and neglect. The MFCU has consistently shown a direct relationship between the number of staff on its team and the amount of money it has recovered. This expansion is expected to bring more recoveries to the Commonwealth of Virginia.
The Virginia MFCU was established in 1982 to investigate and prosecute health care providers who defraud the Medicaid program. The MFCU's goal is to deter fraudulent activities throughout the Commonwealth through its civil and enforcement actions.