Medicaid Fraud Control Unit (MFCU)
If you would like to report a suspected case of Medicaid fraud or have questions, please contact us at
804-371-0779 or 1-800-371-0824, email us at MFCU_mail@oag.state.va.us.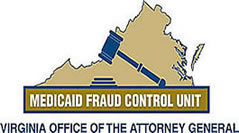 Fighting Medicaid fraud is of vital importance to Attorney General Herring. While most Medicaid health care providers in the Commonwealth provide excellent care to their patients, a few prey on the Commonwealth's most vulnerable citizens - the elderly and disabled, children and the poor. Since 1982, the Attorney General's nationally renowned Medicaid Fraud Control Unit has investigated and prosecuted those who prey on the needy, holding them accountable and protecting taxpayer dollars. The MFCU team vigorously investigates claims and educates the public on Medicaid fraud, as well as elder abuse and neglect, with the goal of deterring fraudulent and abusive activities throughout the Commonwealth through its civil and enforcement actions.