Medicaid Fraud Control Unit (MFCU)
ELDER ABUSE AND NEGLECT SQUAD
If you would like to report a suspected case of Medicaid fraud or have questions, please contact us at
804-371-0779 or 1-800-371-0824, email us at MFCU_mail@oag.state.va.us.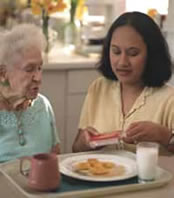 The Elder Abuse and Neglect Squad of the Virginia Attorney General's Medicaid Fraud Control Unit(MFCU)investigates allegations ofabuse or neglect of elderly and incapacitated adults receiving Medicaid benefits in the Commonwealth. During fiscal year 2008-2009, the squad was formally defined as a separate entity within the MFCU. The Elder Abuse and Neglect Squad strives to ensure rapid response to referrals, effective investigations, and successful outcomes that will ensure Virginia's vulnerable adults receive the highest quality of care possible in both home and institutional settings.
Signs of Elder Abuse and Neglect
Burns, welts, scratches, bruises, cuts
Fractures, dislocations, sprains
Restrained, tied to bed or chair
Mistrust of others
Unsanitary or unsafe housing
Inappropriate or inadequate clothing
Malnourished
Lacks needed supervision
Untreated medical condition
Lacks needed dentures, glasses, hearing aids or medication
"This year, as a result of our criminal and civil investigations, the Virginia MFCU has successfully recovered a significant amount of money from providers who defrauded or attempted to defraud the Medicaid Program. In addition to preventing fraud, one of my key priorities is to protect the elderly and the incapacitated from abuse and neglect."
— Virginia Attorney General Kenneth T. Cuccinelli, II